Golden State Window & Glass provides high-quality commercial glass repairs to a wide variety of clients in Bakersfield, Una, Calders Corner, and Oil Junction, CA. Whether you're a store owner, industrial space operator, or a farmer, we have a wide variety of glass solutions that can meet the needs of your business!
For store operators, a welcoming environment is especially necessary. Your store should be open and bright. Dark, cramped spaces or damaged windows may be deterring your potential customers. That's why you should consider investing in commercial glass repairs in Bakersfield, CA.
Store Front Glass Services
We can provide a wide range of high-quality service offerings to our commercial clients. Here are just some of the ways that we can help your business thrive: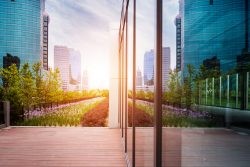 Commercial window replacement: Whether you are relocating to a new building or are hoping to brighten up your existing space, we can provide you with several different commercial window replacement options.
Storefront repair: If your storefront has suffered damage, don't let that deter your customers! Golden State Window & Glass is the premier provider of glass repairs in Bakersfield, CA.
Commercial glass replacement: Older glass panes can cost you countless amounts of money in utility expenses. Replace your commercial space's existing glass with newer, clearer and more energy-efficient panes to maximize your bottom line!
Mirrors: Mirrors can be used for a wide range of commercial practices, including in farming and industrial applications. We provide commercial glass plates as well as mirror installations.
We employ only the best brands for all of our commercial glass repairs. We offer products from Old Castle Building Envelope, Vistawall and Alside Windows.
Install Commercial Glass
You can invite customers into your space and increase your store's foot traffic by installing a fresh and welcoming window system. Call us today at 661-316-8584 to learn more about our commercial window replacement, residential glass repair, custom shower doors, and retrofitting services!